How It Works?
What is 'The Rule Tool'?
The Rule Tool provides immediate access to investor rules.

As a result of the myriad of lending industry changes, there has been a substantial increase in the number and diversity of investor overlays with that lenders must check. Meanwhile, you may have lost a loan or lock because you weren't aware of an investor's specific requirements. The Rule Tool obliterates that time consuming process of researching and confirming investor overlays one website at a time. With a click of a button, you can quickly match a borrower's unique situation to various lender rules, thus eliminating unnecessary delays, assuring your lock and delivery will be valid, and increasing your overall productivity.

Pricing engines are typically limited to the "hard" (primary) conditions, such as loan amount, LTV, FICO, state, property type, and debt- to-income ratio. The Rule Tool provides a single, comprehensive source for the multitude of rules and overlays that aren't featured in pricing engines but that can affect the approvability of the loan. The lender chooses the appropriate unique identifier(s) for the borrower and selects the top preferred investor(s), and The Rule Tool immediately confirms the rules, substantially increasing the chances of a successful closing and delivery to your investor.


The Rule Tool's primary benefits include:
Significantly increased chances of a successful delivery to your target investor
Hours of time saved, resulting in improved productivity
No missed deadlines
Greater support for loan officers, underwriters, and processors
Lenders will also appreciate The Rule Tool's mobile application. For a monthly subscription fee, you can use it with your smart phone, laptop or iPad.
Step 1
Open up The Rule Tool, which will take you to the search interface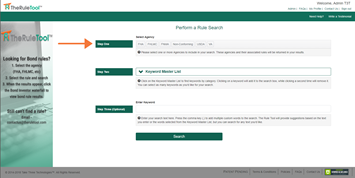 Click on the image to enlarge it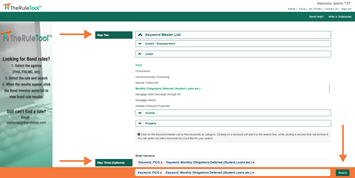 Click on the image to enlarge it
Step 2
Select your agencies and enter in your search query, then click the search button
Step 3
Pick which rule search result you'd like to view and click on it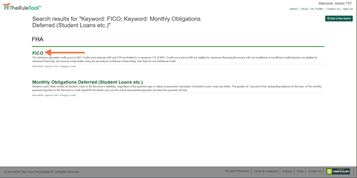 Click on the image to enlarge it